Welcome to Just Relax!
Where you can "Get the look... and Keep the look!" with exceptional, personalized service from licensed and qualified estheticians.
Just Relax is an exclusive lounge-style salon specializing in Brazilian waxing and professional skin care services. From facial hair removal to advanced skin care, you will find a private and relaxing atmosphere where excellent service provides you with an extraordinary experience and visible improvements in skin's tone and texture.
"Lourena is a true professional and always leaves me with smooth, silky skin. She has a vibrant personality and makes me feel so comfortable. She never settles for less than perfection for her clients."
Tiffany P.
Our rejuvenating facials, detoxifying deep pore treatments, masks and peels are designed with results in mind! You will see a marked difference in the quality of your skin and will leave our salon feeling completely relaxed and refreshed.
Our staff of Professional Estheticians are friendly, knowledgeable, and ready to meet your waxing and skin care needs. We keep it private and confidential so you can Just Relax! Remember, It's more than an appointment, it's an experience!
Come see our new salon location! A quiet, private location in Brynn Marr - You won't believe it when you step inside!
---
We also offer: microdermabrasion, chemical peels, seaweed masks, thermal masks, exfoliation, extractions, massage, galvanic treatments, oxygenating treatments, bikini waxing, leg, arm, lip, face and eyebrow waxing... and a full line of professional skin care products.
See our services page for complete service listings, descriptions and prices.
Lourena is also a Brow to Brazilian Specialist from Adriel International.
---
Just Relax Mission Statement:
To service each client in a private, professional & respectful manner. To strive for the best possible results. To render all services with excellence and integrity.
Remember, all you have to do is Just Relax!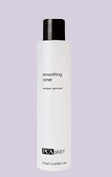 PCA Smoothing Toner
Find out more about our products.