Specialty Services
Essential Skin Care Menu
AGE REJUVE FACIAL- A four layer anti-aging treatment rejuvenates, tones and firms the skin dramatically. Enjoy two facial massages, a pure energy firming seaweed mask, and then a mineral-rich thermal mask with heat that allows for total penetration of the skin's layers. A light exfoliation is applied. No extractions are performed. Skin is tighter, healthier and radiant. Approx 1hr
"I have received facial and body treatments from major spas in NYC, San Francisco, Houston and Toronto - Lourena ranks with the best of them. Her products and care are second to none. I absolutely recommend her if you want to look and feel your best."
Veronica W.
Just Relax SIGNATURE FACIAL- Enjoy an hour and 15 minutes of pure relaxation with the benefits of deep skin cleansing. Utilizing a state of the art fourteen-and-one facial unit, this facial is personalized to your skin care needs. Rotation brushes are used for a deeper exfoliation, vacuum suction for stimulation massage, and galvanic or high frequency current for deeper product penetration. Light extractions, if needed. Treatment serum, specialty mask, hydration and a relaxing hand/arm rub. Skin will be flawless. Approx 1hr. 15min
THE PERFECT FACIAL- This facial is a relaxing customized facial for the perfect skin. Enjoy an all hands on, calming and relaxing facial with the benefits of deep cleaning without the use of electrical modalities. Approx 1hr.
GQ MENS FACIAL- Designed just for men, to relax tired, stressed skin. We start with two washes, an enzyme exfoliation, and light extractions if needed. Followed by a tension release facial massage, a treatment serum and a specialty mask. A scalp & shoulder rub is administered through out the service with a hand and arm rub. Skin will be calmed, cleaned, and healthier. Approx. 1hr
Just Relax PETITE FACIAL- For beautiful skin on the go. This 30 minute pick me up facial is perfect for first time facial clients and time-savvy clients who want to enjoy beautiful radiant skin in just minutes. Deep cleansing, light exfoliation, mask and hydration. No extractions are performed. Wrapped up with a nice shoulder and neck rub. Skin will be revived and beautiful. Approx 30min.
BACIAL- A facial for the back is perfect for that hard to reach area. We start with two deep cleansings on the back accompanied by steam, an enzyme exfoliation to remove dead skin cells, extractions, and a tension release back rub followed by a detoxifying or moisture mask. Back will feel and look smooth and beautiful. Approx. 1hr.
*Steam and Sun Screen (SPF 25 and up) applied with every facial.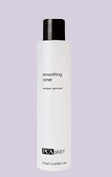 PCA Smoothing Toner
with details...