Tips and Tricks
BEFORE WAXING
AFTER WAXING
Do not touch waxed areas for 24 hours. Hands carry bacteria, even washed hands!
Absolutely no sun and tanning bed exposure for at least 24 hours.
Try not to take hot showers or vigorious exercise for at least 4 hours after waxing.
Use a gentle exfoliant 24 hours after waxing to prevent ingrown hairs, bumping and skin irritation.
GENERAL TIPS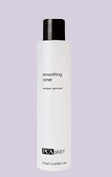 PCA Smoothing Toner
with details...